Bucharest Romania
Bucharest may have been slow to get through the upswing that hit the other capitals of Eastern Europe at the beginning of the decade. But the post-communist capital of Romania is at a quiet stage and has a modest pace ahead: streets that sway between artful communist structures and buildings are slowly decaying;
Modern restaurants are wrapped in brutal neoclassical facades, but with laughter and warmth. Walking around there are many surprises, parks to linger and monuments to uncover.
The InterContinental Hotel in Bucharest was the first skyscraper in Bucharest and is still an impressive landmark in the city center that towers over the Bucharest National Theater. The moon-shaped curvature of the building gives each room a unique panorama of the city – so much so that during the Romanian Revolution of 1989 it was the point of contact for the foreign press to watch the protests on the University Square.
In the morning, unimpeded sunshine creates beautiful auras on your balcony window. Room rates start at $ 35 a night and include use of the spa, fitness room, and an excellent intercontinental breakfast in the morning. I have never made such an offer for a five-star hotel.
Where I spent most of my time I was on the rooftop pool and spa. The white ceilings, the muted color palette and the light wooden furniture give this wellness oasis on the 22nd floor an airy Scandi aesthetic. After walking from one end of the city to the other for a day, I was just looking forward to sitting in the hot tub and watching the traffic in Bucharest shimmer slowly and steadily in the main hall.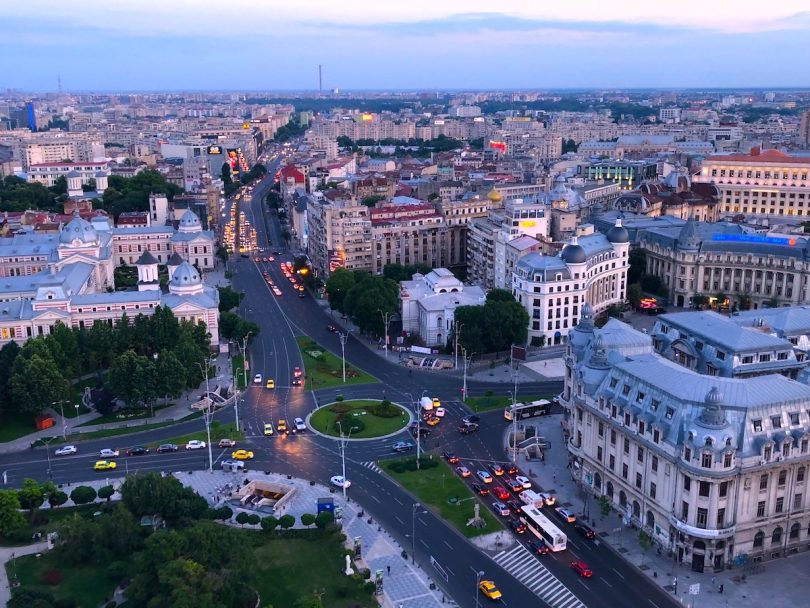 If you want to live in Bucharest's old town, the adults-only Mansion Boutique Hotel is the place for you. While it has an imposing historic facade, the interiors are sleek and elegant, and the themed rooms are far from boring. Your room options include Zen, Industrial, Art Deco, and French. However, the most popular option is the Transylvania room with handmade furniture and floral motifs.
Notable mentions: Hotel Novotel Bucharest City Center Hilton Garden Inn Bucharest Old Town
To see communism in all its glory (or delusions of grandeur as you see fit), you should visit the huge mastiff of a building, the Parliament Palace. This totalitarian and neoclassical building was designed by chief architect Anca Petrescu with the help of around 700 architects over a period of 13 years and embodies the comprehensive socialist realism that conquered Romania under Nicolae Ceaușescu, the dictator and personality of communist Romania.
It is currently valued at EUR 3 billion, making it the most expensive administrative building in the world. It is also one of the most massive buildings in the world and even exceeds the volume of the Great Pyramid at Giza in Egypt. Heads up: You must bring your passport to access this building.
After a tiring addition to history and diplomacy in the Palace of Parliament, you should move on to its new glass wing, where the MNAC is located – the Muzeul Național de Artă Contemporánă al României, the National Museum of Contemporary Art in Bucharest. If you have enough time, you can relax on the lawn of the Parliament Palace in Izvor Park or have a snack.
For a more substantial meal, you can't go wrong with the classic Romanian gastronomic icon, Caru'cu Bere. After 130 years on the thoroughfare in Stavropoleos Street, even locals have described this neo-Gothic restaurant as "the soul of Bucharest".
When you're tired of your house specialty of confit pork and braised sauerkraut, dive into the Stavropoleos Monastery, an Eastern Orthodox stone monastery with stone carved decorations and ornate frescoes, where you come from when you come at the right time you may be watching the nuns at work.
If you are surrounded by magnificent draping plants and the natural warmth of greenhouses, you can go for a walk in the botanical garden of Bucharest with over 10,000 plant species. To relax, Bucharest even has the largest wellness and entertainment center in Europe: the Therme Bucharest, a tropical paradise with 9 swimming pools and 10 themed saunas under a modern glass and steel structure.
If you want to improve your experience, ask about infusion, an exciting, modern sauna ritual that is supposed to entertain your senses with smells and storytelling.
Notable mentions: Romanian Athenaeum Revolution Square Arcul de Triumf Cişmigiu Gardens
Exploring the city center of Bucharest is easy on foot and there are many modern design shops in old facades.
One of the main attractions of the old town is the large royal bookstore Cărturești Carusel – it is located in an architectural jewel of a building and is often described as one of the most beautiful bookstores in Europe. On four large floors, you can have a coffee in a café, read English and Romanian texts or search for contemporary gifts to take away.
Most young designers in Romania want to be in stock at dizainar, and it is obvious why: This cozy design store has repeatedly selected promising Romanian designers and delivered their products to the rest of Europe via dizainar's online platform. It is an entry ticket to be recognized both in your country and abroad. Dizainar currently carries all types of furniture, lighting, accessories, ceramics, and books. If you're looking for the holy grail of contemporary Romanian design, you're in heaven here.
Carturesti Verona is a charming bookshop, record store, tea room and garden all in one place. There is a large collection of design, art, and architecture books in which you can get lost. Most of all, we liked the fact that we just walked through the big shop and discovered new rooms hidden in small corners and the treasures they contain, like stacked antique copper cups around the stairs, carefully knitted scarves on the corner windows or trendy color block izipizi glasses.
We were pleasantly surprised by everything that Bucharest had to offer from morning to night. Whether you enjoy the delights of an affordable pretzel in a traditional Romanian bakery, dance to street performers, conjure up foot passengers in the old town, watch for a moment silently, as nuns pray in the monastery or walk into it.
In the antique shop, where you can buy a traditional Romanian hand painted egg, there are many treasures to be discovered in Bucharest – and the best time to visit could be now before all the cozy wooden buildings have been renovated and finished modern interior and the scars of furniture to be retrofitted Communism is bleached from the facades of the buildings. You have to see it for yourself.